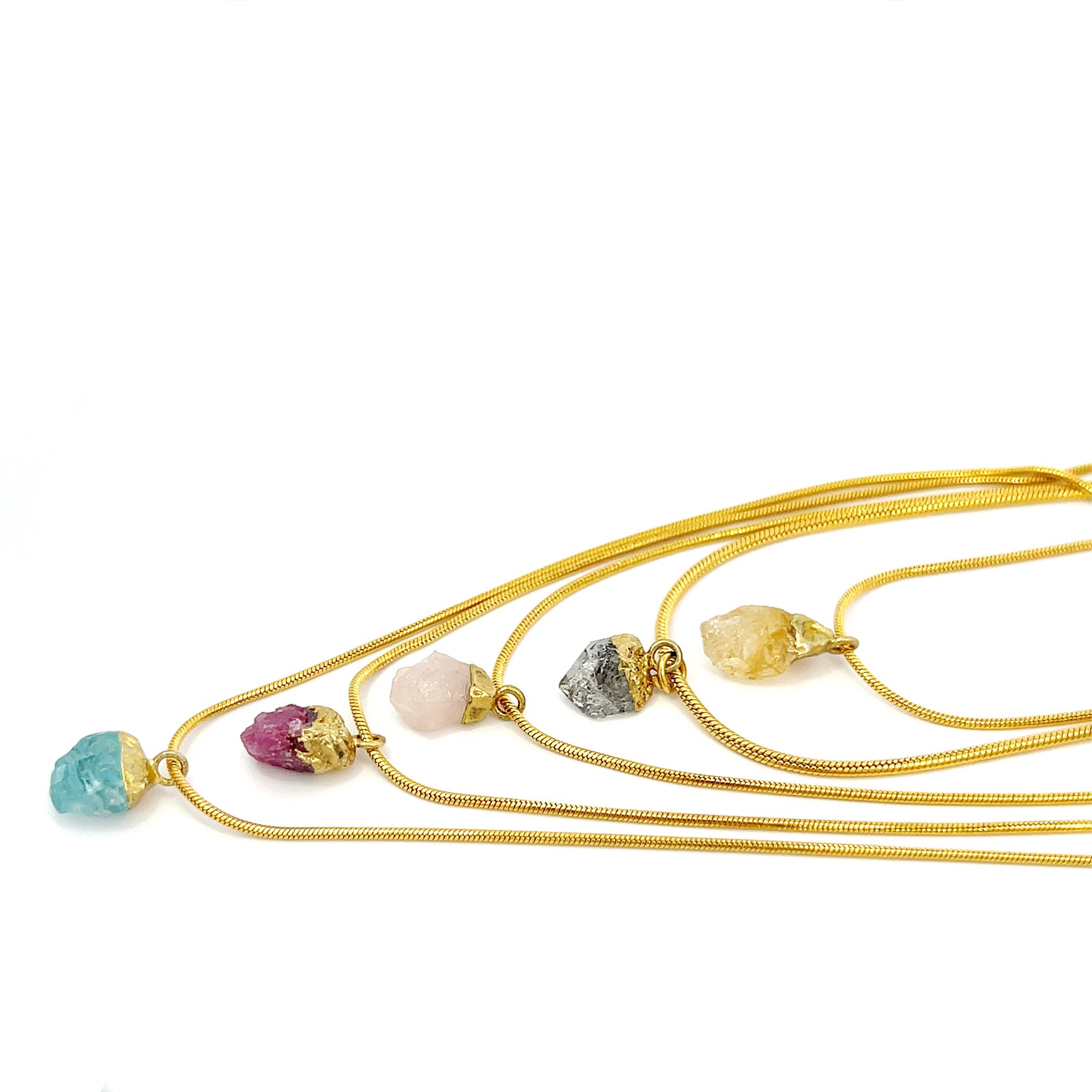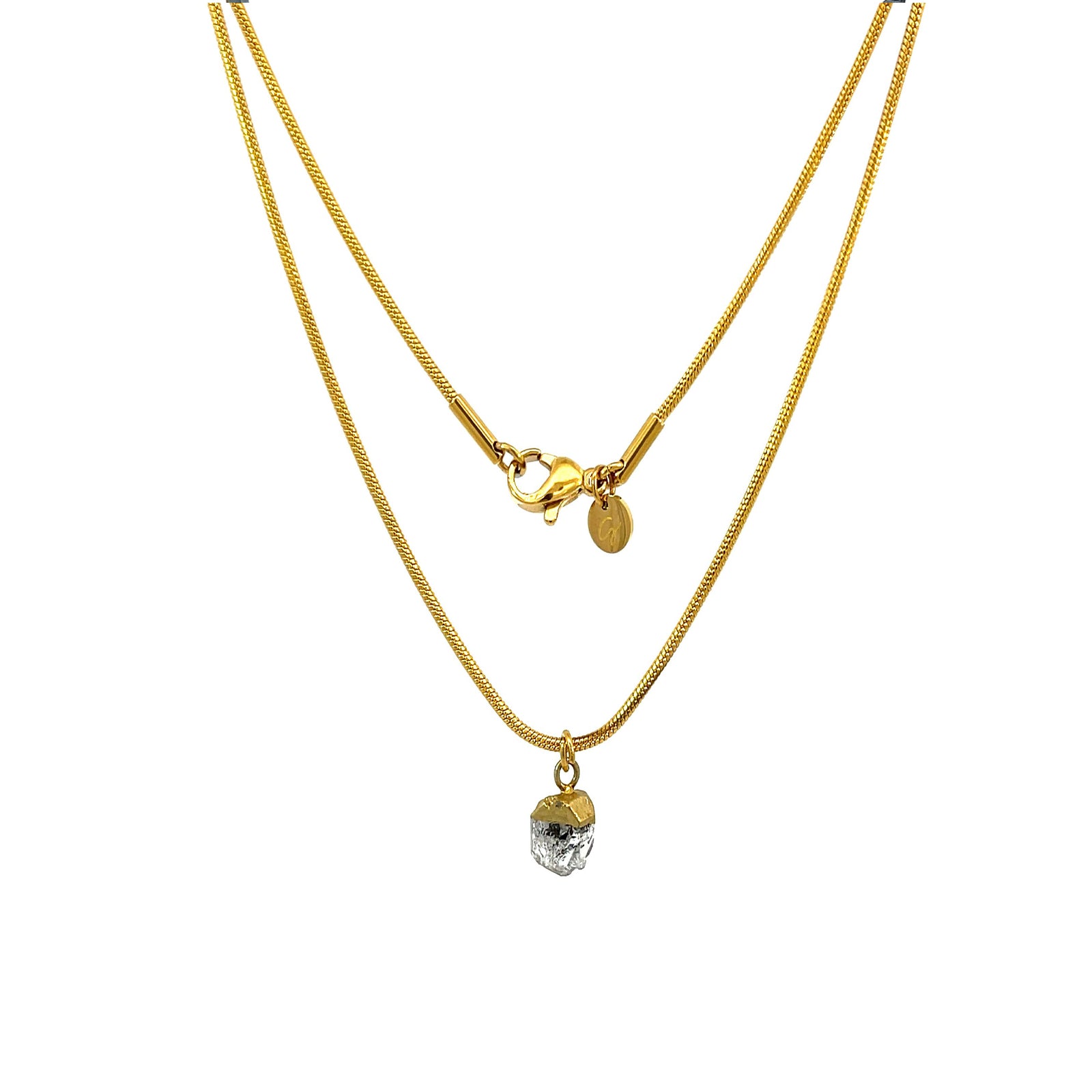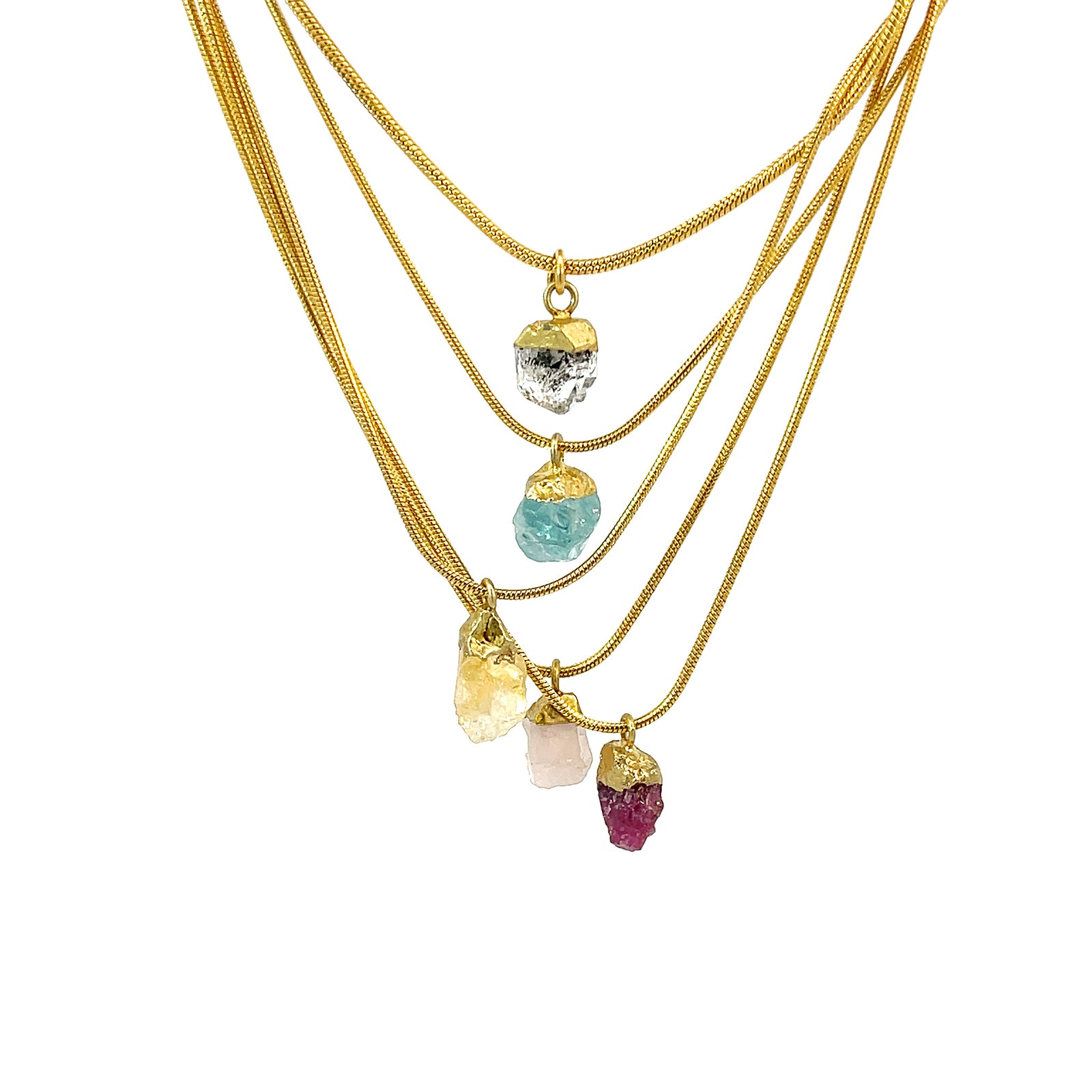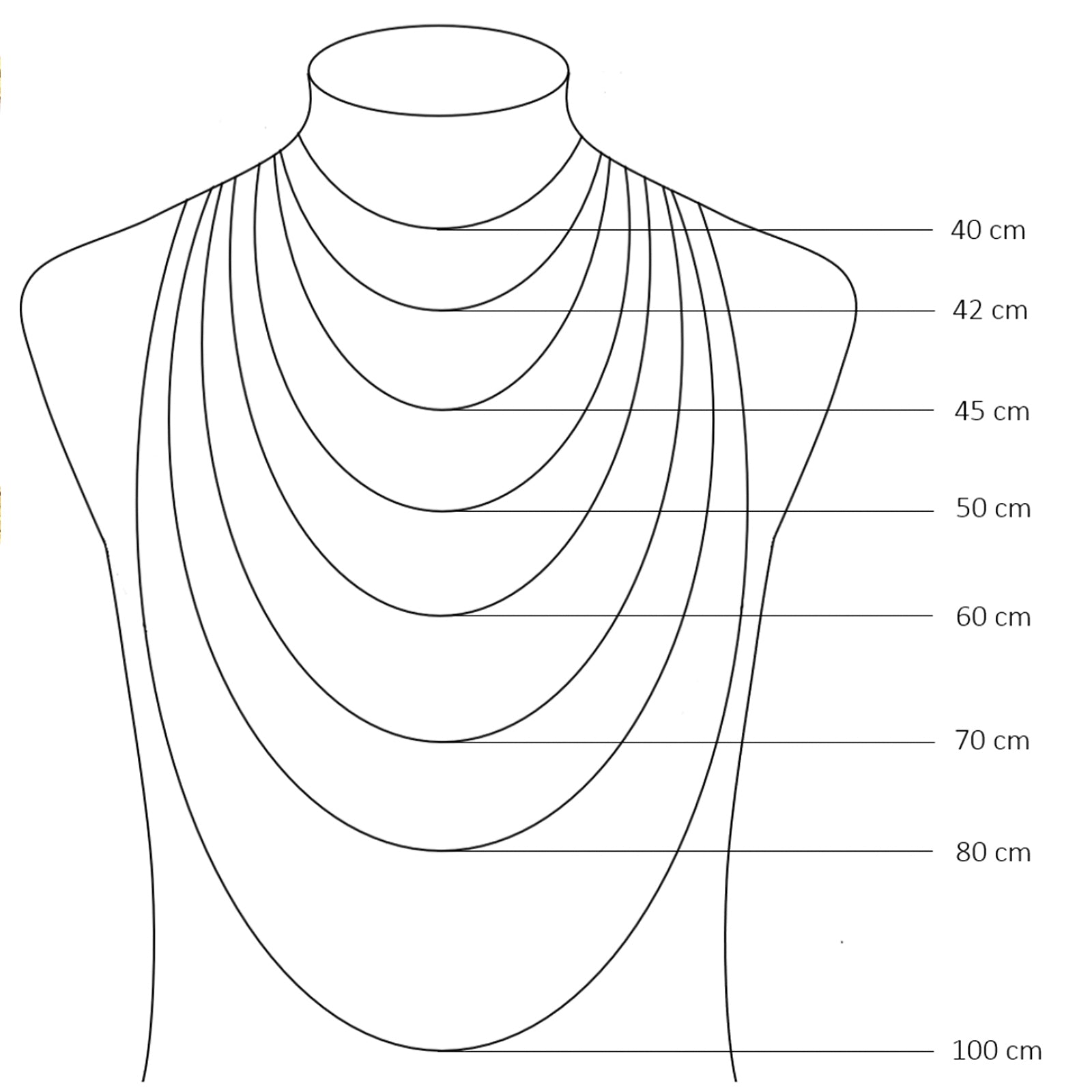 " Omni" Snake Chain with Natural Stone Pendant
Sale price

$230.00
Regular price
(/)
2 in stock
2 in stock
1 in stock
2 in stock
1 in stock
2 in stock
Out of stock
1 in stock
1 in stock
1 in stock
Out of stock
Out of stock
2 in stock
Out of stock
---
Our "Omni"  Snake Chain with Natural Stone Pendant is made of stainless steel and is plated with 18K gold.

A perfect choice for a gift due to its classic and versatile design. They are lightweight, easily wearable and timeless.

You can style them with other kinds of necklaces or match them with other jewellery from our collections. They will for sure become your everyday essential! 

For a more elevated and funky look we suggest to layer a few of the Omni necklaces together. The come in different length and with different natural stones. 

-------------------------------

Choice of stones:

Garnet - A garnet stone is often gifted to a loved one before they embark on travel. Garnets are commonly believed to aid in the healing of broken bonds of love. Garnets are also known to aid in the treatment of melancholy and depression by acting as a heart and blood stimulant.

Its associated with the zodiac signs of Aquarius and Leo.

Citrine - Citrine promotes motivation, activates creativity and encourages self-expression. Enhances concentration and revitalises the mind. It releases negative traits, depression, fears and phobias.

It's associated with the zodiac signs of Aries, Taurus, and Gemini.

Aquamarine - It can be used to help calm the mind, nerves, and anxieties. Physically, it's said to help relieve the symptoms of fluid retention. Because it's associated with water and water is cleansing, aquamarine can also help aid in the flushing of toxins from the body.

It's associated with the zodiac signs of Pisces and Aquarius, Libra and Gemini. 

Ruby is the gemstone associated with the Sun. Sun is the signifier of name, fame, success and health. It blesses the wearer of this gemstone with good health, greater courage, self-confidence, success, name and fame.

It's associated with the zodiac signs of  Aries, Scorpio, Sagittarius, Leo and Pisces. 

Amethyst  -  is a natural tranquiliser, it relieves stress and strain, soothes irritability, balances mood swings, dispels anger, rage, fear and anxiety. Alleviates sadness and grief, and dissolves negativity. Amethyst activates spiritual awareness, opens intuition and enhances psychic abilities.

It's associated with the zodiac signs of Aquarius, Pisces, and Sagittarius.

Black Rutilated Quartz is an illuminator for the soul, promoting spiritual growth. It cleanses and energises the aura. Draws off negative energy and disease, letting go of the past. Rutilated Quartz gives protection against the ill thoughts of others.

It's associated with the zodiac signs of Gemini, Taurus, and Leo.

Rose Quartz purifies and opens the heart at all levels to promote love, self-love, friendship, deep inner healing and feelings of peace. Calming and reassuring, it helps to comfort in times of grief. Rose Quartz dispels negativity and protects against environmental pollution, replacing it with loving vibes.

 It's associated with the zodiac signs of Taurus, Libra and Scorpio.

---------------------------

Details:

– 18ct gold on stainless steel

– Different lengths of chains

- Not adjustable chains

- Natural stone pendants

---------------------------

Remarks:
Protect your jewellery by storing it in individual soft pouches or airtight bags to prevent it from reacting with the Sulphur in the air or from being scratched.

Sterling silver tarnishes, especially when exposed to salt air and products containning sulfur.However, silver that is regularly used typically needs less care, so we encourages you to use or wear silver everyday!

------------------------------

DISCLAIMER:

Our Jewellery Pieces are made from real natural stones that can vary in color, texture, and pattern. We try our best to ensure that our stone colors are consistent. However, all stones may not be exactly as shown on the website.

Our stones may appear lighter, darker, or have variations due to natural conditions. Colors may vary slightly from piece to piece; making your piece unique and one of a kind.
We hope you love what you have ordered! But in case you are not 100% satisfied or have changed your mind about the purchase, returns and/or exchanges are allowed. All returns and exchanges are a subject to a 7 day return and exchange policy counting from the day of purchase (receiving the order in case of pre-order and online purchases) under the following conditions:

All returns and exchanges due to change of mind are subject to a 7-day return and exchange policy upon receipt of an online order and in-store purchase from date of purchase, subject to the following terms and conditions:

Items must be returned in new, unworn, unwashed, undamaged, and unaltered condition and have the original tags attached (original packaging for jewellery, shoes and accessories).

NON-RETURNABLE ITEMS: Bodysuits, swimwear, customized items and any discount items are non-fundable.

Items must be returned / exchanged within 7 days of receipt. To process an exchange / refund, please contact our customer service team by email at info@gosiaorlowska.com or in store @Whtie shop A, 24-26 Aberdeen Street, Central, Hong Kong and our team will help you out.

 

About order, shipping & delivery fee: 

Once the order has been paid, usually will need 1-3 days to process your order (It might take additional time during sale periods, holidays, and unforeseen circumstances such as extreme weather events). You will receive a notification with tracking number once your order has been shipped.

We offer free local (Hong Kong) delivery for purchase over HKD 500 and free delivery for Asia countries over HKD 1000 purchase. We also offer international shipping too, you can check the shipping fee before check out. If you have any enquires about international shipping, please feel free to contact us at info@gosiaorlowkska.com

If taxes and/or duties are incurred for your parcel, you will be responsible for covering the fees before delivery can proceed. 

In most cases, the package will be delivered within the estimated time of arrival. However, the actual delivery date may be affected by flight arrangements, weather conditions and other external factors. Please refer to the tracking information for the most accurate delivery date.


 
How long will it take for my order to arrive?

All orders that comprise of items that are in stock will be prepared and sent within 48-72 business hours after receiving by the customer an official order conformation. This time frame might vary during sales and promotion periods. 

Items that are not in stock, especially in case of clothing, it takes up to 2 weeks to have them made. We will inform You in case of necessity of making them to order. If delivery time will be too long for You, You can cancel the order. 

Can i cancel my order?

All shipped orders cannot be cancelled. If you wish to cancel your order, let us know as soon as possible by contacting us via email. We'll do as much as we can. You can also manually cancel your orders on your user profile page. If you don't see a "Cancel button", it is very likely that your order has already been dispatched.

What if i receive a wrong product or a product in bad conditions?

We are committed to prepare and send our products in perfect condition. If you receive a wrong product or a faulty item, please email us info@gosiaorlowska.com, we'll be glad to help you.    

How do I determine my size?

To find your size, we recommend referring to our size chart, which provides detailed measurements for each product. You can find the size chart on the product page  or in the Size Guide section of our website.   

Please bear in mind that our clothing is tailored according to Asian Size Charts and therefore the sizing is a bit smaller than European or American sizing. So if You are not sure about the size or sizing is not specified please take a size bigger than You would usually do.

What if the item i want is out of stock?

We strive to keep our inventory up to date; however, in some cases, popular items    may temporarily go out of stock. You can feel free to reach us out by email or fill up the demand inquiry on the product page or follow us on social media to stay informed about restocks, custom order and new arrivals.   

                

We hope these FAQs have addressed your inquiries. If you have any further questions, please don't hesitate to reach out to our customer support team. We appreciate your interest in Gosia Orlowska Designs and look forward to providing you with exceptional service and timeless essential fashion.
Please feel free to reach out to us if you still have questions or if you need a specific item.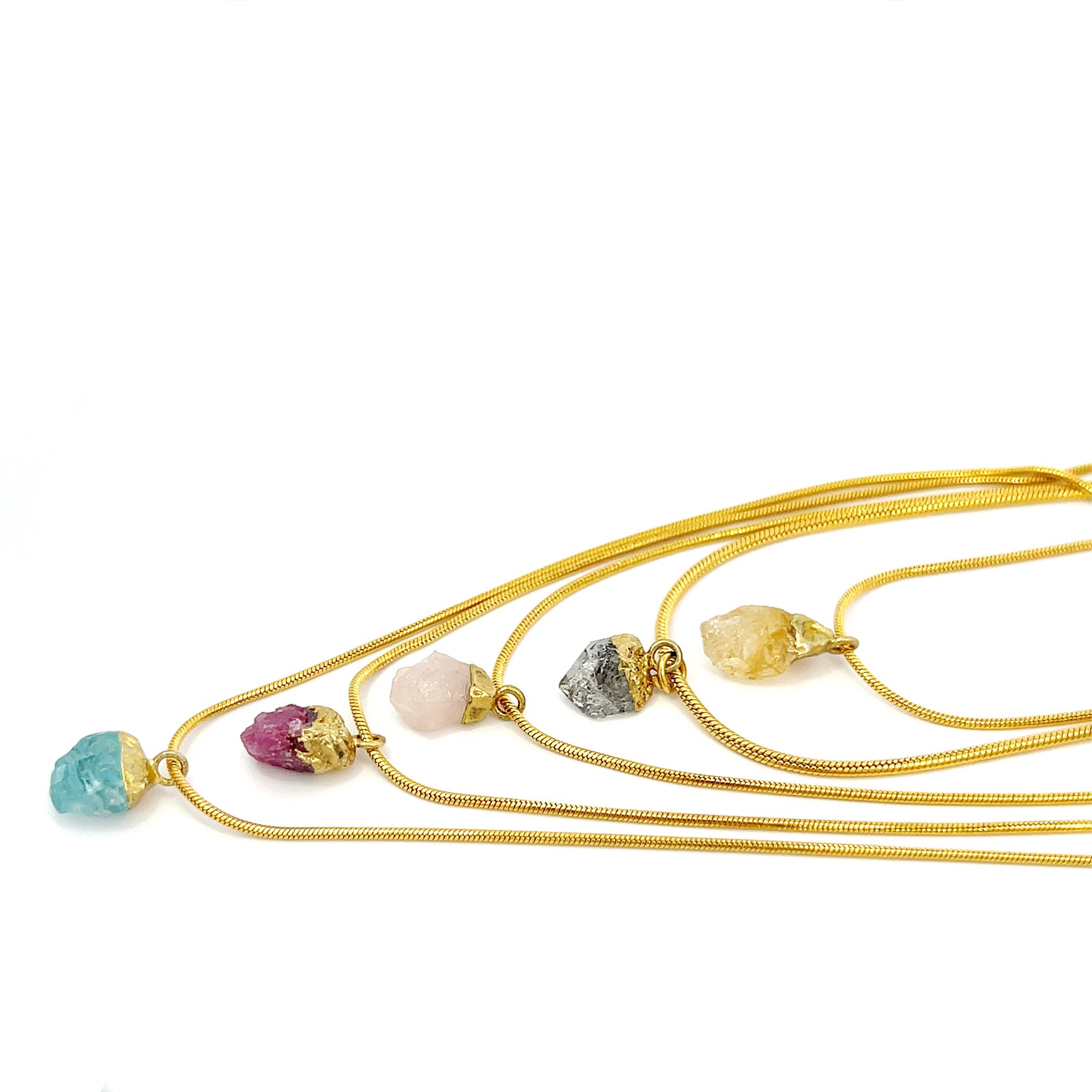 " Omni" Snake Chain with Natural Stone Pendant
Sale price

$230.00
Regular price
Choose options