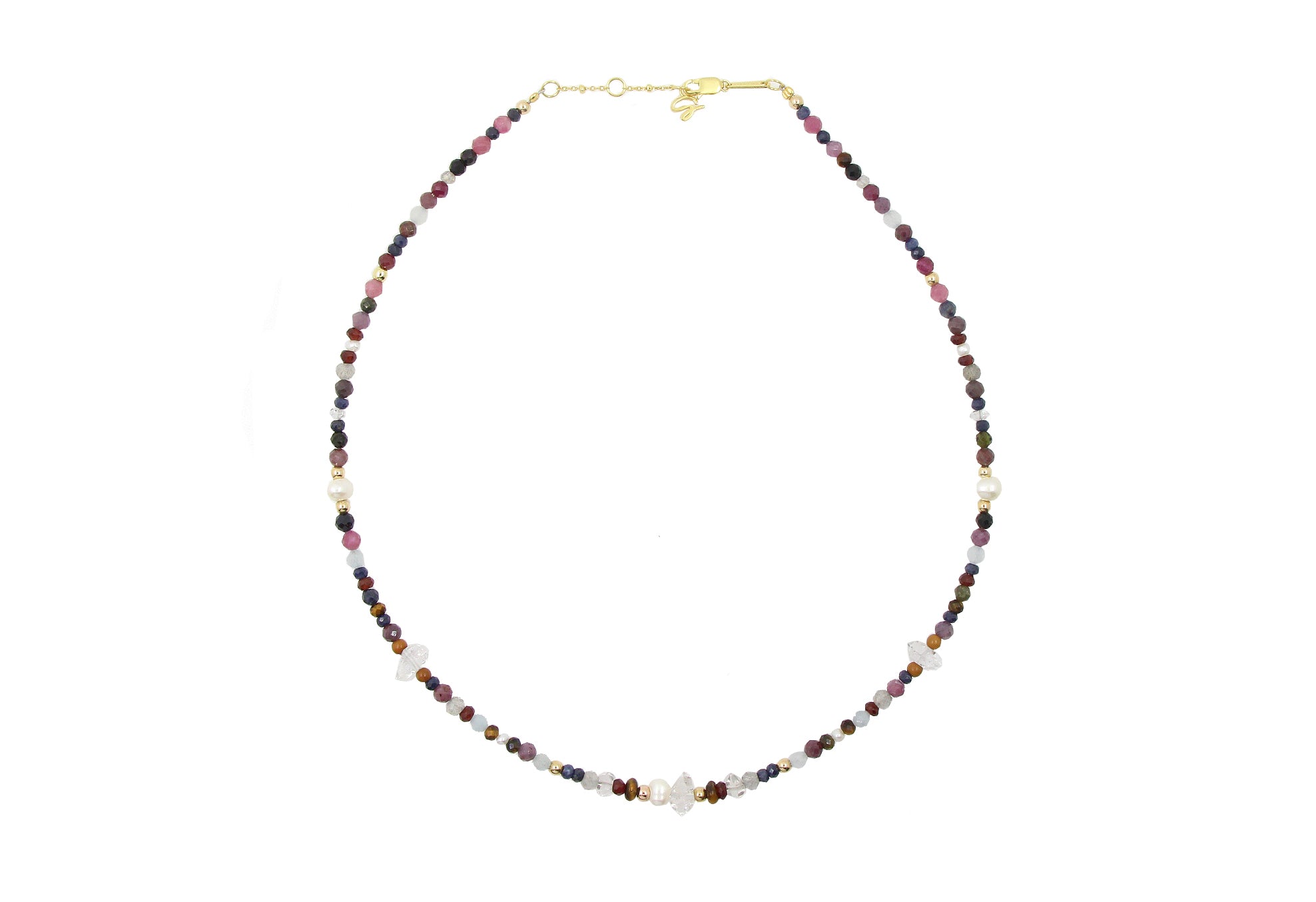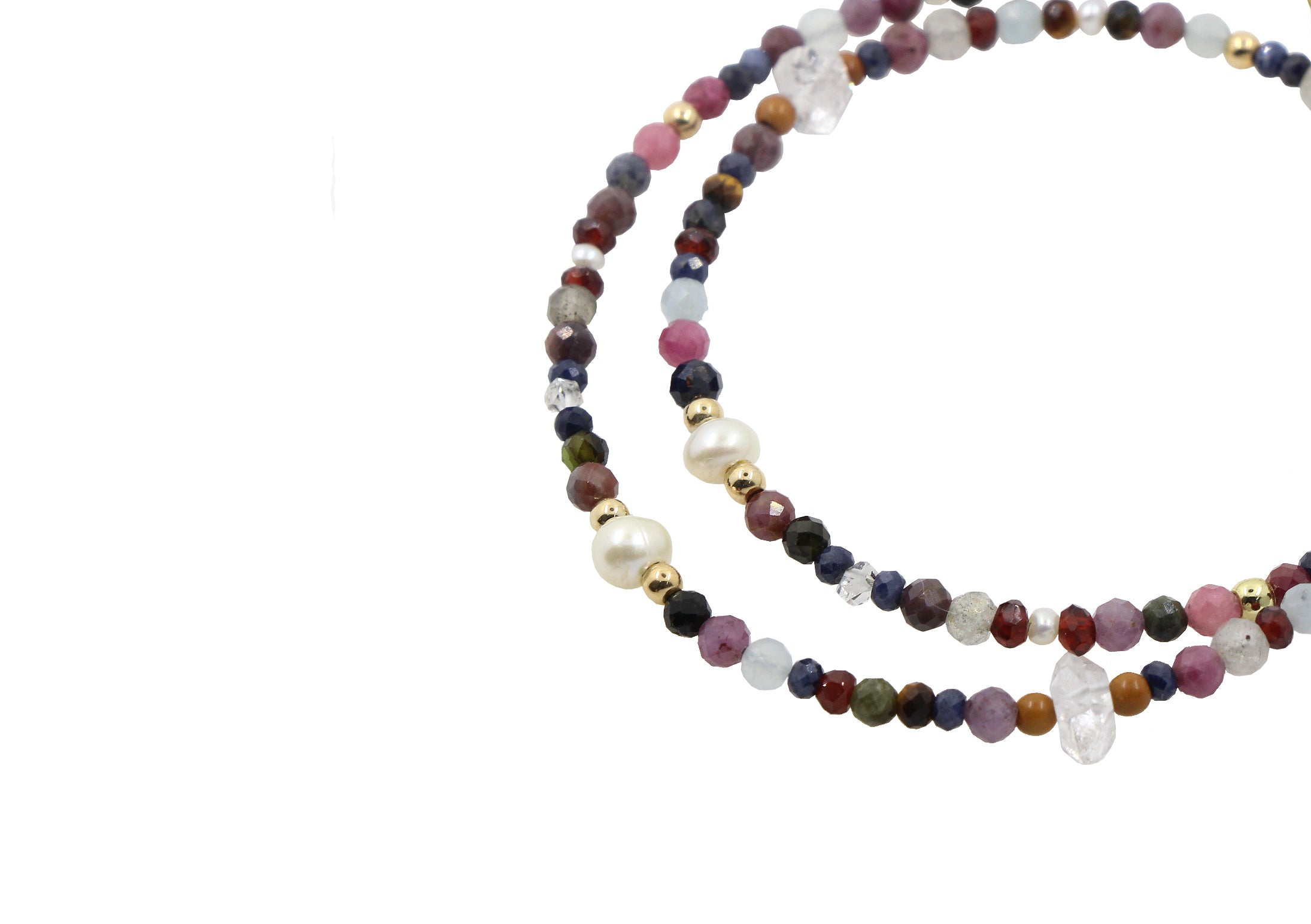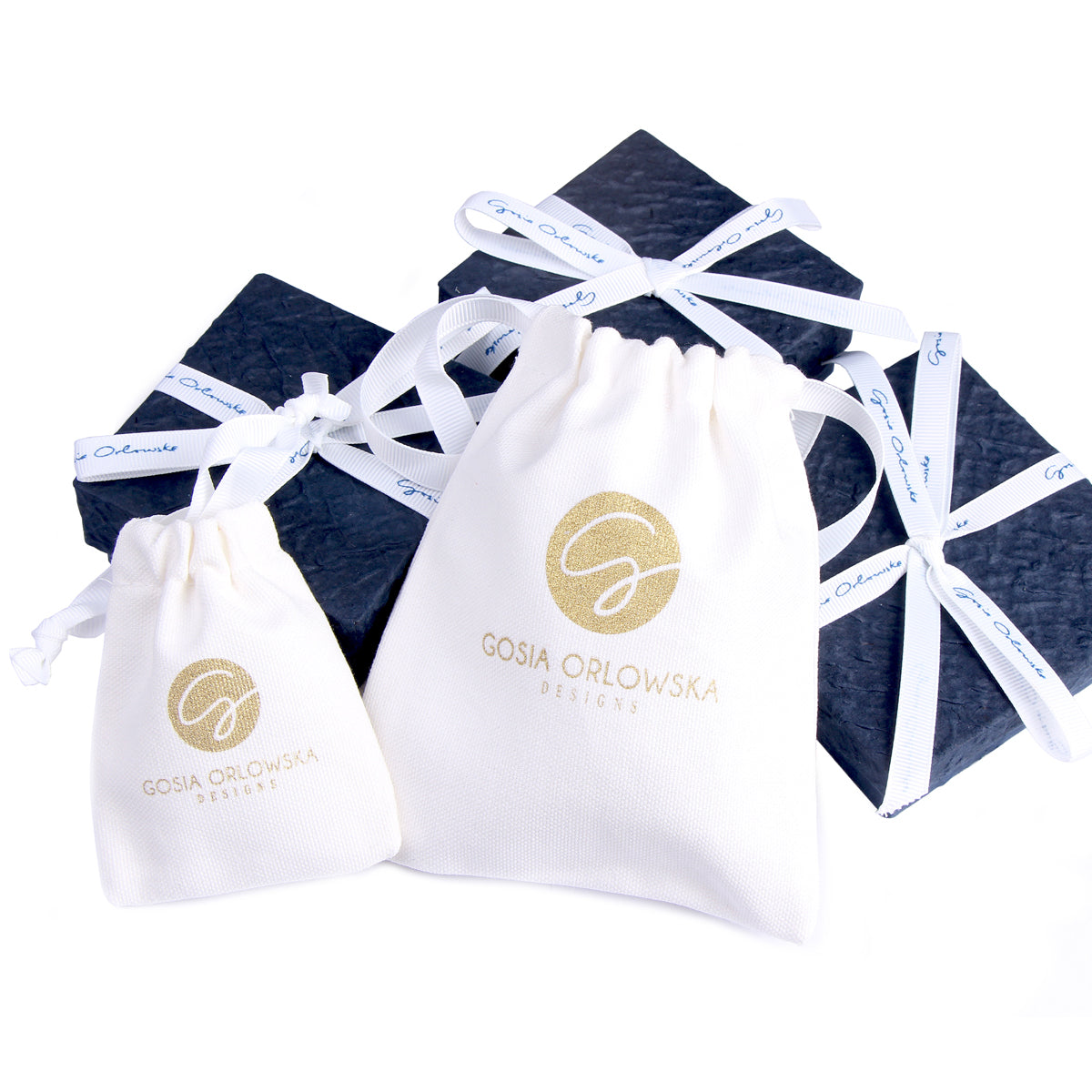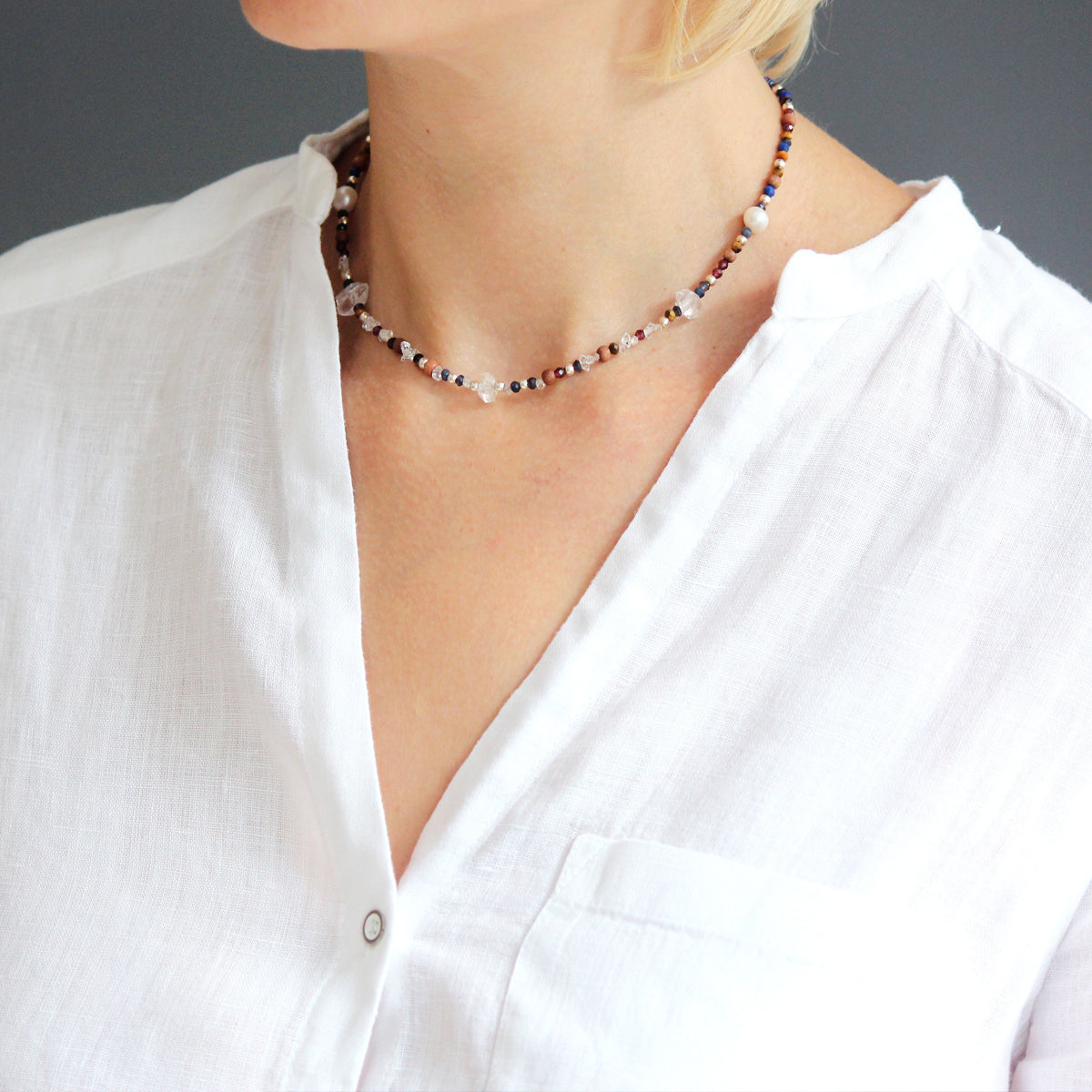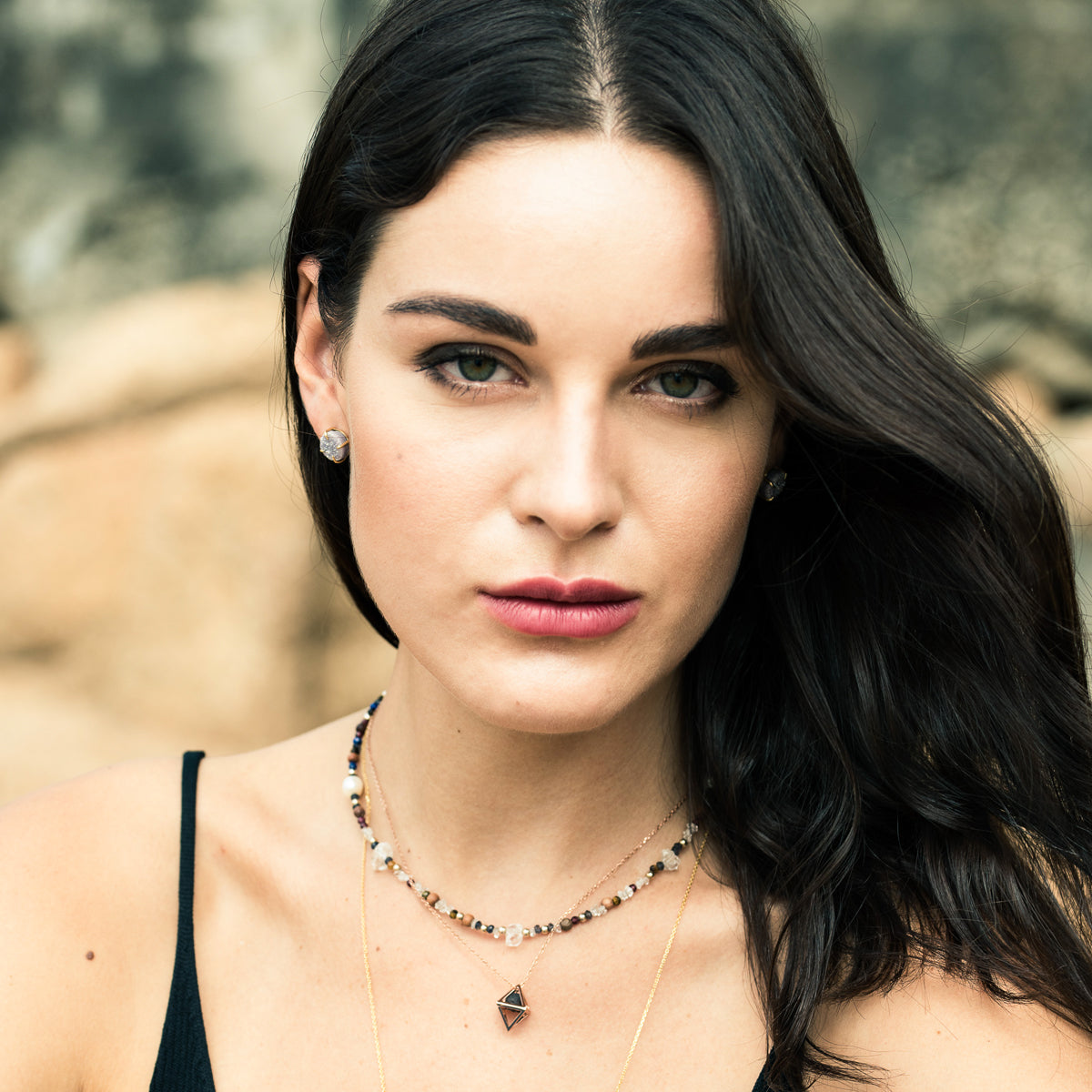 "ANIKA" HERKIMER DIAMOND & PEARL NECKLACE
Sale price

$980.00
Regular price
(/)
---
Our "ANIKA" HERKIMER DIAMOND & PEARL NECKLACE is a versatile, yet eye-catching jewerelly piece! This beaded necklace adds color and shine to your stack. Additionally, Its natural stones balance out Your energy levels.

----------------------------------------

 Details: 

– 4mm Herkimer Diamond/ Quartz 

– 3mm 925 Sterling Silver round beads 

– 4-5mm Freshwater Pearls

– 3mm Redwood

– 3mm Garnet stone

– 3mm Lapis Lazuli stone

– Adjustable clasp (total length: 40 cm)

What Are HERKIMER Diamonds?
Herkimer Diamonds (also known as Herkimer Quartz) are double terminated (pointed at both sides) quartz that was discovered in and around Herkimer County, New York, the USA in the 18th century. Although they are not actually diamonds these crystals have exceptional clarity and along with their natural faceting are what give them the "diamond" name. Most Herkimer Diamonds take on the typical hexagonal habit of quartz; however, instead of having a termination on just one end (like a typical diamond) they are double terminated. This is a result of the crystals growing with very little or no contact with their host rock. Double terminated diamonds are extremely rare which makes Herkimer Diamonds amazing creations of nature and very popular among mineral and crystal collectors.

Healing Properties of HERKIMER Diamonds
For decades Herkimer Diamonds have been sought out for their holistic qualities. They are thought to exude brilliance and dazzling happiness. By carrying one of these stones in your pocket can give you an extra boost of energy. While sleeping with a Herkimer Diamond under your pillow can initiate conscious out-of-body experiences and assist one in remembering dreams.

HERKIMER Diamonds in Jewelry
Herkimer crystals are an exquisite choice for jewellers because their natural "facets" are both beautiful and interesting. These crystals can be found from very small to quite large sizes, in single crystal as well as in a beautiful cluster. Generally, jewellers use the smaller crystals as they have higher clarity and dazzling shine. It is easy to see in all of our Herkimer Diamond jewellery lines the specialness these stones

About GARNET:
Garnet is a January birthstone. This beautiful stone, which is most commonly red but can be found in a range of other colours, symbolizes peace, prosperity and good health. Some say it even has the power to give the wearer eternal happiness, health and wealth.

About LAPIS LAZULI:
Lapis lazuli is the alternate modern birthstone for September. Lapis Lazuli is a symbol of truth, as it brought you to see yourself for what you really are, and at the same time helps you to accept those parts of yourself that you may see as undesirable.
On the elemental side, Lapis Lazuli is known as the water stone.

----------------------------------

Remarks:
Protect your jewellery by storing it in individual pouches or airtight bags to prevent it from reacting with the Sulphur in the air or from being scratched.

----------------------------------

DISCLAIMER:

Our  Jewellery Pieces are made from real natural stones that can vary in color, texture, and pattern. We try our best to ensure that our stone colors are consistent. However, all stones may not be exactly as shown on the website. 

Our stones may appear lighter, darker, or have variations due to natural conditions. Colors may vary slightly from piece to piece; making your piece unique and one of a kind.




 
We hope you love what you have ordered! But in case you are not 100% satisfied or have changed your mind about the purchase, returns and/or exchanges are allowed. All returns and exchanges are a subject to a 7 day return and exchange policy counting from the day of purchase (receiving the order in case of pre-order and online purchases) under the following conditions:

All returns and exchanges due to change of mind are subject to a 7-day return and exchange policy upon receipt of an online order and in-store purchase from date of purchase, subject to the following terms and conditions:

Items must be returned in new, unworn, unwashed, undamaged, and unaltered condition and have the original tags attached (original packaging for jewellery, shoes and accessories).

NON-RETURNABLE ITEMS: Bodysuits, swimwear, customized items and any discount items are non-fundable.

Items must be returned / exchanged within 7 days of receipt. To process an exchange / refund, please contact our customer service team by email at info@gosiaorlowska.com or in store @Whtie shop A, 24-26 Aberdeen Street, Central, Hong Kong and our team will help you out.

 

About order, shipping & delivery fee: 

Once the order has been paid, usually will need 1-3 days to process your order (It might take additional time during sale periods, holidays, and unforeseen circumstances such as extreme weather events). You will receive a notification with tracking number once your order has been shipped.

We offer free local (Hong Kong) delivery for purchase over HKD 500 and free delivery for Asia countries over HKD 1000 purchase. We also offer international shipping too, you can check the shipping fee before check out. If you have any enquires about international shipping, please feel free to contact us at info@gosiaorlowkska.com

If taxes and/or duties are incurred for your parcel, you will be responsible for covering the fees before delivery can proceed. 

In most cases, the package will be delivered within the estimated time of arrival. However, the actual delivery date may be affected by flight arrangements, weather conditions and other external factors. Please refer to the tracking information for the most accurate delivery date.


 
How long will it take for my order to arrive?

All orders that comprise of items that are in stock will be prepared and sent within 48-72 business hours after receiving by the customer an official order conformation. This time frame might vary during sales and promotion periods. 

Items that are not in stock, especially in case of clothing, it takes up to 2 weeks to have them made. We will inform You in case of necessity of making them to order. If delivery time will be too long for You, You can cancel the order. 

Can i cancel my order?

All shipped orders cannot be cancelled. If you wish to cancel your order, let us know as soon as possible by contacting us via email. We'll do as much as we can. You can also manually cancel your orders on your user profile page. If you don't see a "Cancel button", it is very likely that your order has already been dispatched.

What if i receive a wrong product or a product in bad conditions?

We are committed to prepare and send our products in perfect condition. If you receive a wrong product or a faulty item, please email us info@gosiaorlowska.com, we'll be glad to help you.    

How do I determine my size?

To find your size, we recommend referring to our size chart, which provides detailed measurements for each product. You can find the size chart on the product page  or in the Size Guide section of our website.   

Please bear in mind that our clothing is tailored according to Asian Size Charts and therefore the sizing is a bit smaller than European or American sizing. So if You are not sure about the size or sizing is not specified please take a size bigger than You would usually do.

What if the item i want is out of stock?

We strive to keep our inventory up to date; however, in some cases, popular items    may temporarily go out of stock. You can feel free to reach us out by email or fill up the demand inquiry on the product page or follow us on social media to stay informed about restocks, custom order and new arrivals.   

                

We hope these FAQs have addressed your inquiries. If you have any further questions, please don't hesitate to reach out to our customer support team. We appreciate your interest in Gosia Orlowska Designs and look forward to providing you with exceptional service and timeless essential fashion.
Please feel free to reach out to us if you still have questions or if you need a specific item.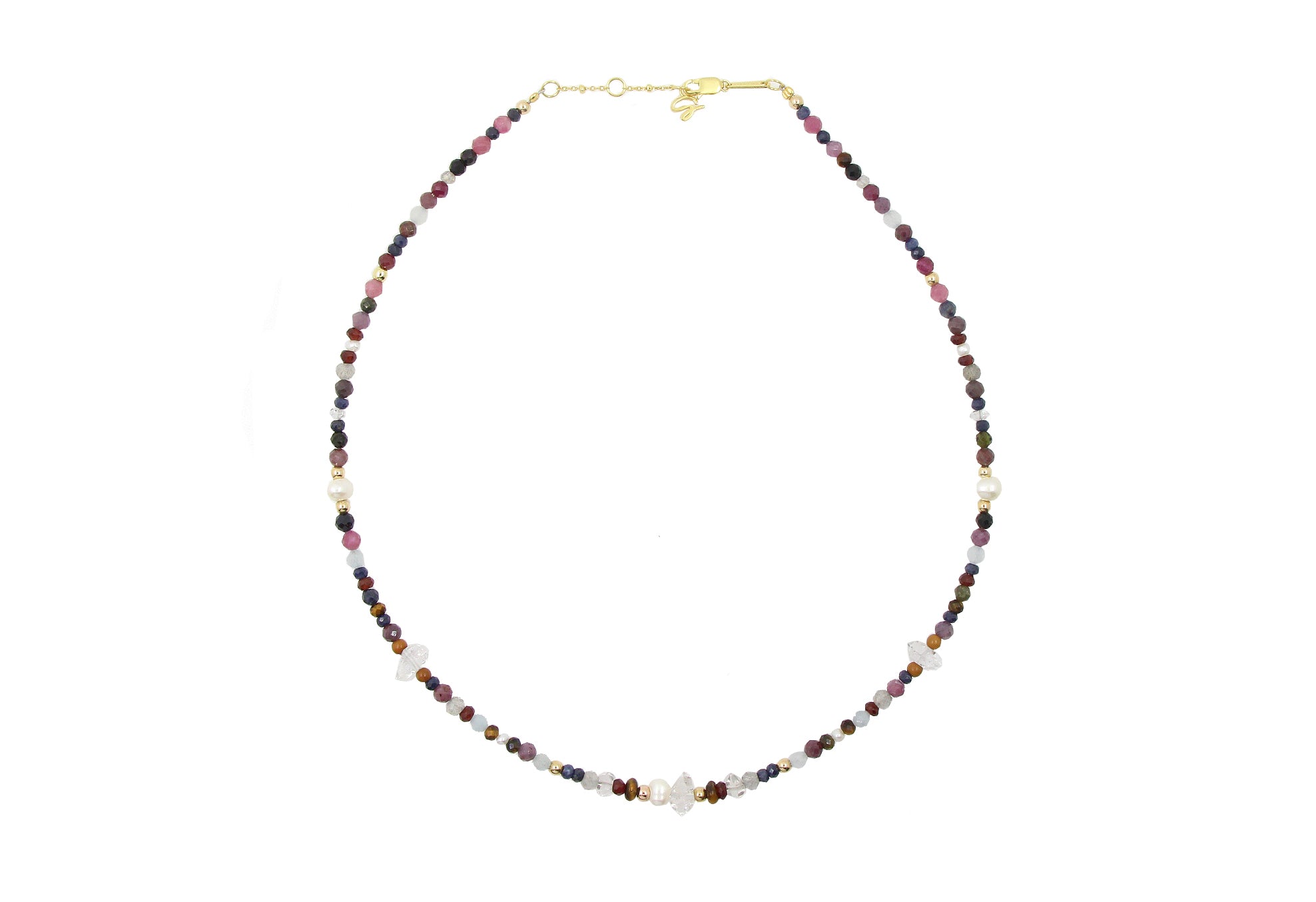 "ANIKA" HERKIMER DIAMOND & PEARL NECKLACE
Sale price

$980.00
Regular price
Choose options